Make Exercise Prescription Faster… Easier… More Effective
Better Home Exercise Software
Home exercise prescription is arguably the most critical part of patient care. But it can also be incredibly frustrating and time consuming.
Patients often forget what you tell them, do the exercises wrong, or forget what exercises to do all together. 
This is a major barrier to getting the results that you want and your patients need.
Our home exercise software can help. Here's how it works…
Step 1:

Add A Patient To Your Account

Simply add your patient to your My Rehab Connection account. From here you can assign exercises to your patient from our extensive pre-loaded exercise library, or from your own custom exercise library with exercises you create yourself.

This initial process is similar to other existing exercise software programs, but My Rehab Connection also has a ton of unique features to make home exercise prescription faster and easier for you and your patients.

And unlike other software, with our program there's no limit to how many patients you add. From 10 to 10,000, it's all incuded in your basic monthy subscription.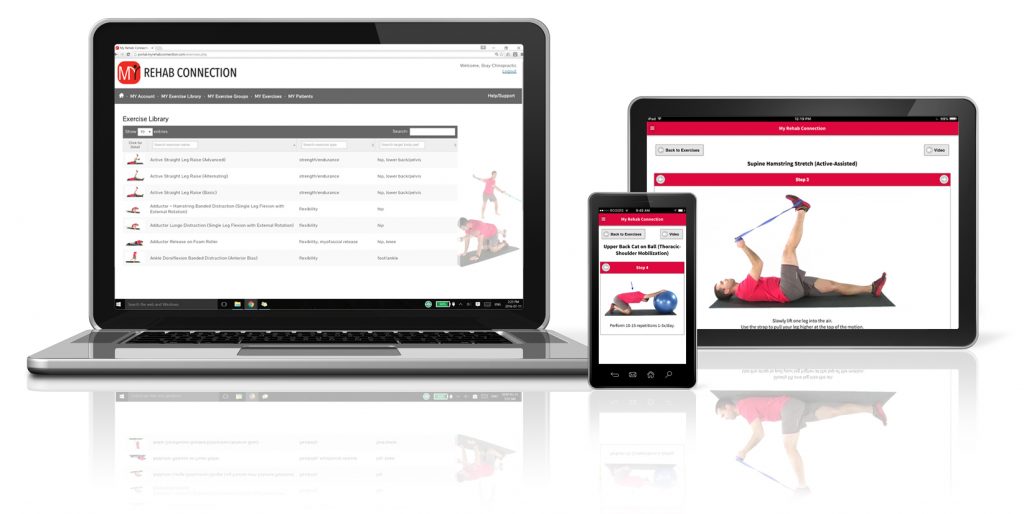 Step 2:

Your Patient Downloads The Free Patient App

You patient simply downloads the free My Rehab Connection app. The first time they open their app they login using their unique username and password (these login credentials are generated as they are added to your account and sent to the patient along with login instructions via an automated email).
No more sad looking printouts that patients lose, can't follow, and force you to teach the same patients the same exercises over and over. With My Rehab Connection your patient can access their exercises (and a whole lot more) in the easiest and most convenient place – right from their phone or tablet.
This way they can not only see pictures and text, but they can also access instructional videos to nail down the proper form for each each exercise.
And our software even allows you to modify the instuctions for each individual patient so you can get them doing their home care exacly the way you want them to.
(And yes, if they are one of those people who aren't too tech savy they can also access they exercises from their computer… and yes you can also print the exercises for those few patients who need it.)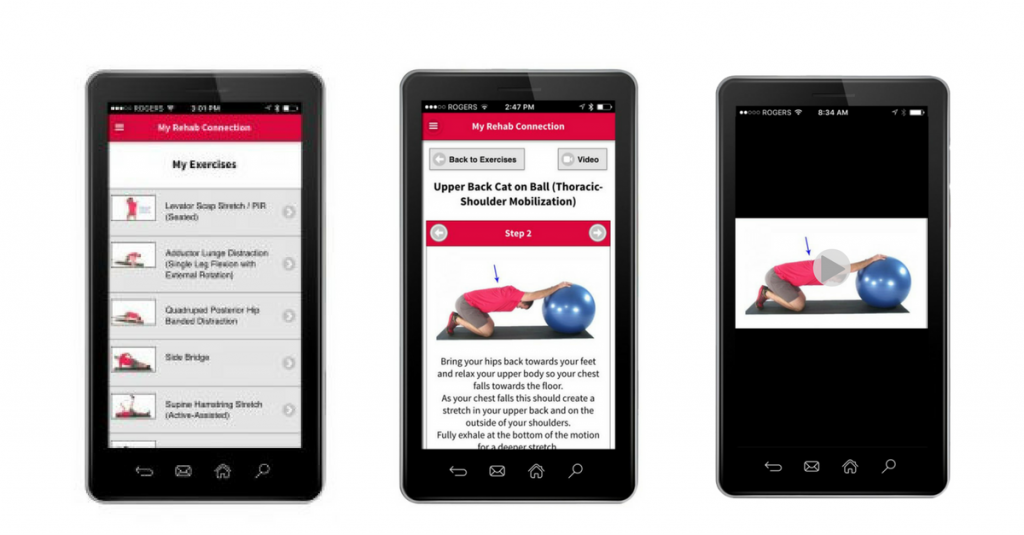 Customize The App For Your Clinic…
The app's home screen (and patient website) can be completely customized for your clinic. That means every time your patient opens their app they see your clinic logo. You can even add easy contact features so they can call or email you right from the app's home screen. You can add a link to your online appointment calendar, and even feature your social media profiles.
So the app is not just a powerful home exercise tool… it's also a direct gateway to your clinic.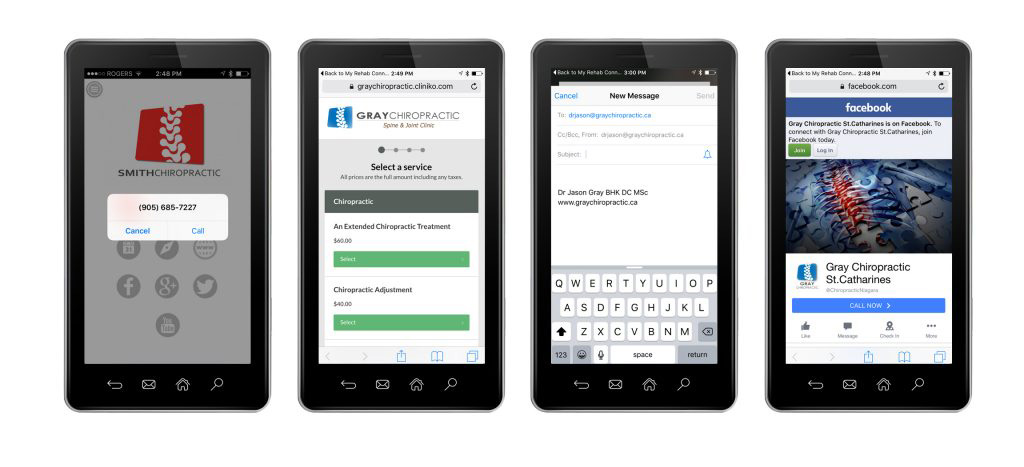 Step 3:

Easily Update Your Patient's Exercise Program

Of course as the treatment plan progresses you will need to add, remove, and progress your patient's exercises. This can be a time consuming aspect of the rehab process. But we've made this simple too.

Any changes you make to your patients exercise plan are automatically synced to your patient's app. No re-printing exercise sheets. No new emails to clog up your patient's inbox. They just open their app and instantly have access to their updated program.

You can even plan ahead and add exercises to your patients account that can be activated later. This way they show up on your end but your patient can't seen them until your ready to prescribe them.

And you can take advantage of our "Exercise Groups" section. Here you can organize exercises and create protocols for common conditons and then prescribe the entire group with a single click (and remember you can pause the exercises the patient isn't ready for).

With your subscription you have access to our pre-made groups, but you can aso easily create your own groups with your favorite go-to exercises.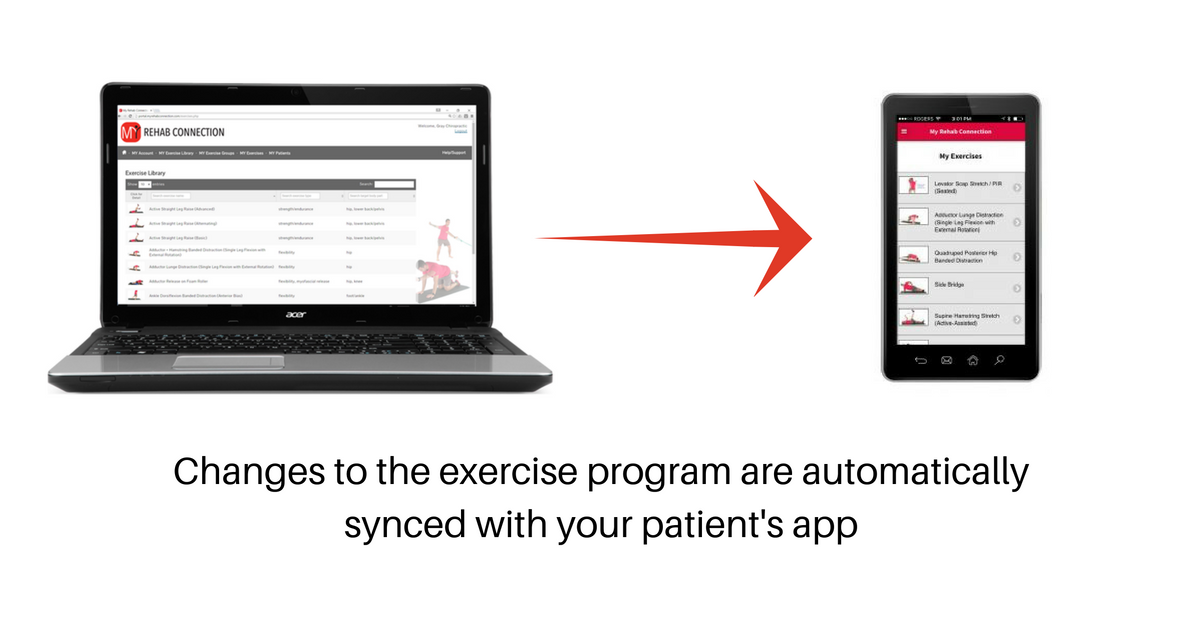 More Features To Make Your Home Exercise Prescription Faster and More Effective
Copy and Paste To Your Soap Notes
Need to copy the exercise prescription to your SOAP notes. No problem. If you use a web-based EMR software you can quickly copy and paste a summary list of the exercises into your patient notes. 
Extensive ExercisesLibrary
Get full access to our extensive exercise library as well as pre-loaded exercise templates/groups from which you can prescribe exercises to your patients. 
Create Your Own Content
Quickly create your own custome exercises. You can copy and edit any existing exercises to make them your own… Or create your own content from scratch, including text, pics, and video. 
Save Time with Your "My Exercises Section"
Searching through hundreds of exercises to find the one you need can be time consuming. With our MY Exercises section you can create your own mini exercise library with your favourite go-to exercises. You can even rename or modify existing exercises to make them just how you want them. 
Assign Entire Exercise Groups/Templates with a Single Click
Do you use similar exercise protocols for commonly presenting conditions. Save time by prescribing entire exercise groups/programs to your patient with a single click. Choose from our existing exercise groups or create your own. 
You can even pause an exercise your patient may not be ready for… then easily activate it when your patient is ready. 
Edit Exercise Instructions for Individual Patients
Ever have those patients who require a slight tweak or modification of a standard exercise? With My Rehab Connection you can add a note or edit the exercise instructions for each individual patient. 
This is where your can specify things like sets and reps, but also the actual step-by-step instructions. Any changes you make will be applied only to that single patient. 
Free App for Each Patient
Forget printed exercise sheets that your patient will lose and can't follow. You patients can access their exercise program – pictures, videos, and step-by-step instructions – with a free app. 
And don't forget the app's home screen is totally customizable to your clinic. Add your logo, website, call and email buttons, and your online appointment calendar so your patients can contact you and book an appointment right from their  app. 
Online Portal For Patients
Have a patient without a phone? No problem. They can also access their exercises through a web browser. All the same features and customizations of the app… but with a website. 
You Can Print Or Email The Exercises Too
And if you want to you can also print the exercises. You can also create a PDF and email then exercises if needed.
Small Clinic
1-5 Clinicians
Up to 5 users/clinicians

Unlimited Patients

No set-up fees

No contracts / Cancel Anytime

Free Customizable Patient App

First 30 Days FREE
Up to 25 users/clinicians

Unlimited Patients

No set-up fees

No contracts / Cancel Anytime

Free Customizable Patient App

First 30 Days FREE